Happy Friday everybody. It's time for Fun Find Friday, where I share what I've been loving, buying or discovering this week.
It's not a secret – I love fermented veg!
If you've been reading my site for a while, following on instagram or know me in real life, then you will likely be aware of my love of all things lacto-fermented foods.
Professionally, I think they are a critical part of food-as-medicine, for repairing and maintaining gut health and a balanced microbiome. (Disclaimer – if you have certain problems present in your gut, you may not tolerate fermented foods until those issues have been resolved. If you get symptoms, please seek professional guidance to sort them out. It's not that ferments are bad for you, just that they are not appropriate for you at this moment.)
Personally, I love the way they taste and the vibrancy and jazz that they add to food. Every tried hummus and kraut? Or grilled chicken and kimchee together? Soooo good people!
You can do it yourself at home.
When I decided I wanted to learn to ferment, I had to trek out of London and I did a fermentation course held in a hut in an allotment in Oxfordshire. There wasn't anything else available! This was a while ago, obv. But the teacher was really experienced and it was a great experience. She said to me that once you start eating 'living foods', other food tastes a bit lacklustre without them. And I think of that pretty regularly as I'm inclined to agree.
Fermenting your own veg is REALLY easy. I have recipes for Kvass and Kraut on the site, with more to come. And I often just ferment veggies now, without a recipe.
But even though it's easy, it can be daunting if you've never done it before and also it does take some time – a week to two for veggies. So a question that people ask me often is whether there is anything commercially available that is as good as home made.
You can buy them from the store, too.
Well, I don't know about 'as good', but there are certainly fairly good fermented veg you can buy from health food stores. The key is that they have to be raw and refrigerated!
I am going to share with you three different sauerkrauts that I have bought and liked in the past.
Made with organic cabbage and salt. Comes in a glass jar and has a special lid that they claim keeps the fermentation going until you open it. Short shelf life and goes off quickly but a great choice if you are just visiting the UK and want to keep eating ferments while you're here or you eat decent amounts already.
This kraut comes in 4 flavours, plus they have kimchee as well. My favourite is carrot and fennel, second is ruby red, but I have tried, and liked, them all.
Laurie's do a plain sauerkraut, beet and red cabbage and a kimchee. Their beet kraut is my favourite. It's really really yum. I haven't tried the kimchee. My only complaint here is that I wish that these didn't come in plastic!!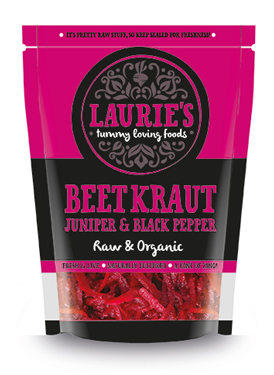 All of the above are available both online and in healthfood stores such as Planet Organic, Wholefoods and independent local stores. There are many others around as well that deserve honourable mentions too.
Now, tell me tell me tell me – Do you buy or make fermented foods? What's your favourite find in store???
Have a healthy weekend everybody!
Save