Ok, it's time for Fun Find Friday again. I hope you've all had a healthy week!
The Digestive Health Solution.
Today I am excited to tell you about a new book I just finished reading. It's called The Digestive Health Solution, by Benjamin Brown, ND.
I love the gut!
I'm sure nobody is surprised by the fact that I find the gut and GI tract a pretty interesting topic. As well as many years of study and post-grad education on the subject I have also read pretty much any book I can lay my hand on on it as well. Some better than others.
Well this one is one of the best I've read in a long time. It's pitched at the general public, it's not a text book but I actually still learned a surprising amount of new info.
Ben Brown, ND.
Ben Brown is an Australian Naturopath who I respect and admire greatly. One of the things that makes him stand out (for me) is his unusually thorough grasp of the medical literature. He takes these fantastic deep dives into the  research on a subject and then distills that info into succinct, usable, practical take-home points. And his book is a great example of that. I used to listen to Ben lecture when I was new in the health-field, and more recently I have had the pleasure of lecturing with him on stage a few times. When he told me he was writing a book about the gut I new it would be great, and made sure to read it.
The Digestive Health Solution. 2nd Ed.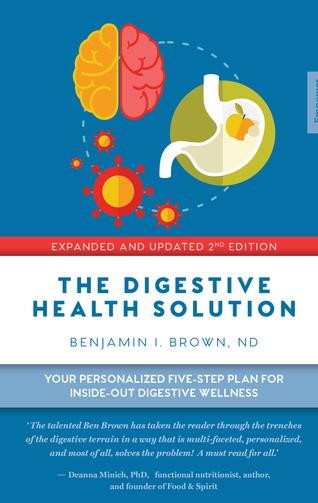 The Digestive Health Solution gives a lot of fantastic information about why things go wrong in the gut, but there's also a really big focus on what to do to try and resolve those issues, and how to have a healthy gut. Among many other important aspects of gut health, Ben talks about the gut-brain connection, stress and the impact that has on the gut and finishes with how to stay symptom-free for life.
Here are some of the cool things that I learned about the gut:
Did you know that poor sleep might be at the core of your digestive problems?
Did you know that hay fever medication can be useful for IBS? The connection there is histamine!
Pepsin is often added to supplements used to support stomach acid production, but there's no actual evidence to suggest that this is useful.
This would be a great read for anyone interested in the solid science behind health-recommendations, or as a gift for a friend or family member who has 'tummy-troubles'.
Have you read it? Is there a particular health-book that has had a big impact on your life? Let me know in the comments.
Here is a podcast that Ben and I did on Epstein Barr Virus and autoimmunity.
And here's a talk we gave together on thyroid health.
As usual, I bought this book myself and Ben doesn't actually know I've written this post at time of publishing it.
Save
Save
Save